23 years of world class, innovative, creative, passionate and cutting edge Dance Excellence  1995-2018
Current Productions

Are you in need of a sultry Spanish night or a boheiman adventure? Brace yourself for a night when the well worn hardwood floors resonate with the pulsating sounds of footwork, song, castanets, syncopated hand clapping and guitar. If you have not seen Carolina Lugo's & Carolé Acuña's Ballet Flamenco, this is an opportunity to experience their high energy and passion for their art that defines a new dimension in Flamenco and Spanish dance traditions.  Carolina and her daughter Carolé offer a special evening for a date night, family gathering, or get together with friends and co-workers.
P

e

ñ

a

P

a

ch

a

m

a

m

a
Every Saturday at 7 pm
February   17, 24;  March 3, 10, 17, 24,31; 24/7 Ticket Hotline 800-838-3006
1630 Powell Street San Francisco Venue phone number: 415-646-0018 Tickets require two drinks, or food order minimum. All tickets are general admission seating assigned by house, so arrive early for best seating. Doors open at 6pm. Shows are subject to Spanish time rules.  ideo width="" height="" mp4="/wp-content/uploads/2017/08/Carolina-Lugos-Carolé-Acuñas-Ballet-Flamenco.mp4″loop="true"autoplay="false"][/video]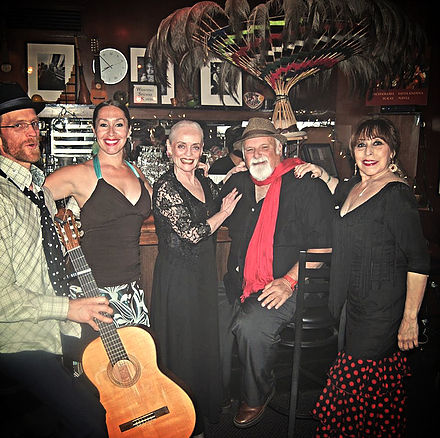 .
---
Armando's
One Night Only
February 23 8:00 pm
Armando's is an intimate, close to the music, get to know the performers, hot spot. Armando's is a cash-only music venue serving beer, wine, and other non-alcoholic beverages, 21 and over please.
Pass under the old train tussle, head towards where the river meets the bay and smell the salted winter air. On a street near the old train station you will find a magical hideaway waiting for your special evening of hot rhythmic music and dance. Experience the passion of Spain and you will surely hear the train whistle blow on the Delta breeze.