Beginners and Advanced Flamenco Dance Classes
Indulge your inner Carmen, sultry Spanish nights, the citrus groves of Andalucia. If the Iberian Peninsula gets your heart racing, then brace yourself for exciting Flamenco classes with Carolina Lugo & Carolé Acuña.
Walnut Creek – San Francisco –
Make 2020 A New Year Of Abundant ART, CREATIVITY & GROWTH!
Flamenco Workshop 2020 WINTER & SPRING SCHEDULE
Classes in Walnut Creek
Classes are held at the Belly Dance Studio, 1235 Boulevard Way, Walnut Creek
WORKSHOPS: Enrolment is open
THURSDAY- 7:30 –9:45 pm- Flamenco Performance Class – Spanish dance w/castanets & Flamenco Performance Class. Learn various techniques in upper body, arms, hands, and footwork combinations, as well as technique of Spanish Manton y Abanico Vignettes.
Workshop Fee: $33 [mother & child duet] x 6-weeks= $198 or Early Registration: $188 or CASH at the door: $200
Workshops are held every Sunday, from March 5 through April 2 Sign up for fun, exciting & cultural lessons in flamenco & Spanish dance classes with castanets [percussion instruments] with master teacher/castanet virtuoso Carolina Lugo
Note: Workshop fee must be received on/or before March 5th to receive an 8% discount fee paid at the door is $200 top↑
Classes in San Francisco
Your search for "Flamenco dance classes near me" ends here! Come, be a part of our Flamenco Workshops in San Francisco.
Carole's Flamenco Workshop at: Sunday-1:30-3:30 pm (Enrolment is open)-
New Beginner Flamenco Technique of Spanish Manton y Abanico.
If you are interested in learning this passionate dance form and about the rich culture of Spain from two master teachers, please contact Carolina. Space is limited and the class is sure to fill up soon. For more information about prices, advance registrations, and location, get in touch with us at:
Phone Number: 925-939-7850 (during afternoons) or Cell: 510-504-4448
Email: carolinalugo1@msn.com.
SEND Workshop fee to: CAROLINA LUGO, 1040 Pleasant Valley Drive, Pleasant Hill, CA 94523 top↑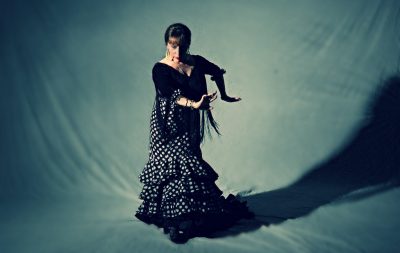 Over 23 years of Dance Excellence 1993-2020
Class Attire
Females: Long full skirt or flamenco skirt + leotard/tank top + low, 2-inch, wide heel pump, character shoes (No tennis shoes, spiked heels, open toe shoes, sandals, flip flops or tap shoes).
Hair must be pulled back away from face.
Males: Casual slacks + T-shirt/tank top + flamenco boots or dress shoes with a heel (No tennis shoes, sandals or flip flops)
Fee Schedule
Class Fees and Ongoing Policies
1-hour: $20 for 3 or more classes per month OR $30 Cash only for drop-in (2 or lesser classes per month)
Drop-ins are welcome on a Cash Only Basis
Drop-in rate applies to two or less classes per month
$25 non-refundable registration fee for all new students
Missed classes must be made up within window period of prepaid classes
$10 Late Fee for tuition paid after the 3rd of the month. NO EXCEPTIONS!
5% Family discount for members living in same household
$35 Returned Check Fee
No Class Credits
No Refunds, No Exceptions
STUDENT TESTIMONIAL
"You know when you go to an amazing, inspiring and uplifting performance and you think how much you wish you could learn from those great artists? Well, that's exactly what happened to me. I strongly suggest you go watch Carolina and her group perform. You'll want to learn with them too. Aside from the fact they have total domain of their art and the generations of experience, they are completely passionate about their work and they are very traditional. You'll fall in love with this form of art through dance. Carolina is an inspiring teacher and artist." – Debora Finkler, Walnut Creek
Belly Dance Studio,1235 Boulvard Way, Walnut Creek, CA 94596
E-mail: carolinalugo1@msn.com
Phones: 925-939-7850 office only/or 510-504-4448 cell