Nevada Dance Review
Jekowsky's Hip Spanish Flavor's Winning Ways at the Reno Phil
By Jack Neal
The combination of excellent performances and hip symphonic programming is making Reno Philharmonic concerts irresistible and super performing arts buys
Sunday's (11/5/2000) afternoon foray into the Spanish idiom had orchestral color galore made even more vivid with the suave and energetic dancing of Carolina Lugo's Brisas de Espana Flamenco Dance Company. The dancers bring flair to Falla's exuberant "Three Cornered Hat" in a master stroke of programming and show business that's yet another indication that conductor Barry Jekowsky knows how to build concert hall exitement, orchestras and audiences.
The good news is that the Falla was only one of four triumphs for conductor, orchestra and patrons at Sunday's first of two concert presentations (the concert will be repeated Tuesday, election day, at 7:30 p.m.). Rimsky -Korsakov's Capriccio Espagnol, Cowell's Hymn for String Orchestra and Ravel's Bolero, all concert hall warhorses save the Cowell, prove once again that fresh, stimulating looks make familiar fare gleam like newly-minted coins.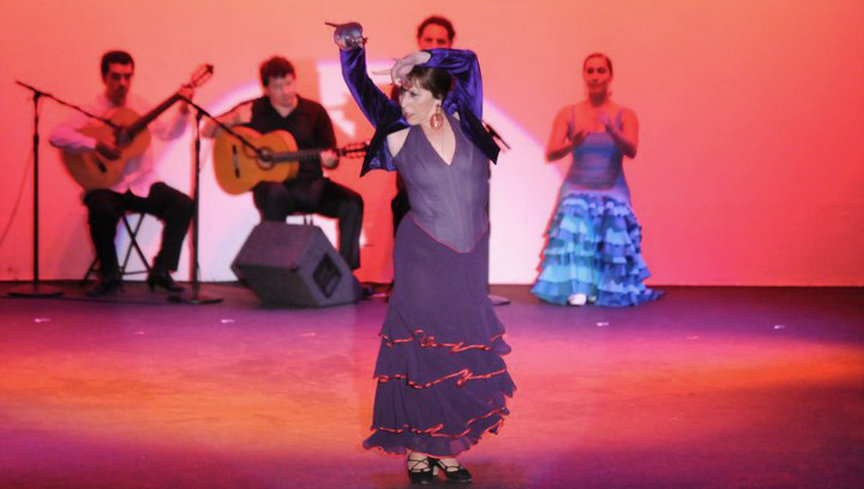 Add the lush singing voice of mezzo-soprano Katharine DeBoer, who sang the brief opening segments of the Falla, and the concert sailed gloriously into the realm of sensational. Risk taking is part of the recipe that makes these concerts dart from thrill to thrill. Jekowsky does what great conductors do, he energizes the talents of his musicians individually and collectively by throwing one virtuosic challenge after another their way. Happily for all concerned, coming up winners at Reno Philharmonic concerts is geeting to be a habit.
One of the special things about this particular program is the opportunity it affords for solo spots. Concertmaster Phillip Ruder, oboist Andrea Lenz, flutist Mary Miller, clarinetist David Ehrke, bassoonist Alice Benjamin, trombonist Mark Lenz, harpist Beverly Colgan – the list could go on indefinitely – all acquit themselves with distinction. It's this kind of voluptuous, no-holds barred performing that have become the expected that are making these Reno Philharmonic outings the stuff that symphonic dreams are made of.
Jekowsky's take on Rimsky-Korsakov's Capriccio Espagnol has a strong rhythmic underpinning and full-throated lyricism that builds to an exhilarating conclusion. All the while dazzling colors change before one's eyes like a magical kaleidoscope of sounds and themes. Little time is wasted on secondary material, an especially bristling pace is set for Espagnol's final movement, but Jekowsky is by no means metronomic. He allows the work's myriads of textures and ideas to soak in and reach out to listeners with telling effect.
The conductor's solid pacing, an excellent tempo, of Ravel's Bolero makes this sensuous work sizzle with drive and passion. The performance is impulsive, yet tight. Without interrupting its constant push to its inevitable photo finish it allows soloists to finesse their lines with a rapture that heightens the Ravel's sexually provocative nature. Taut and subtle the Reno Philharmonic's Bolero would be a smash hit in anyone's concert hall.

Henry Cowell is one of the 20th century's most fascinating and enigmatic composers. Although he was the most adventuresome of American modernists, his Hymn for String Orchestra sounds adamantly solemn in an Austro German, Brucknerian way. Jekowsky and the orchestra present a revelatory, entirely satisfying reading.
Likewise, Jekowsky's rendering of the Falla is thrilling and elating. All elements of a great presentation are in place. The strings have a gorgeous sheen, whenever called upon the winds present priceless solo sound bites, the brass are velvety and powerful but never domineering and the percussion are the epitome of rhythmic integrity. All this and dancing visuals, too. Carolina Lugo, Carolina Acuna, Juan del Valle, Maria Rodrigues and Bianca La Russa are the dancers of Carolina Lugo's Brisas de Espana Flamenco Dance Company. Elegant, fiery and skilled, they are a formidable troupe and make the Falla all it ought to be – exciting in every way.
What a marvelous array of richly expressive performances. Who could ask for anything more?
Sunday's concert will be repeated Tuesday, November 7, 2000, at 7:30 p.m.. All Reno Philharmonic subscription concerts are played at the Pioneer Center for the Performing Arts, 100 South Virginia Street, Reno. Next up for the Reno Philharmonic is the orchestra's annual Spirit of the Season concert December 2, at 2 p.m. and 8 p.m. For information call 775-323-6393.